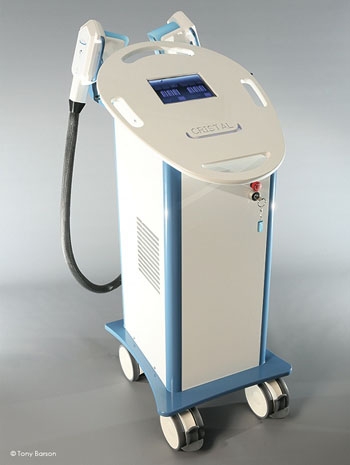 CRYOLIPOLYSIS – LOW TEMPERATURE LIPOMODELLING
CRISTAL® TECHNOLOGY FOR MEN AND WOMEN
Cryolipolysis - literally 'cold fat destruction' - is a recent selective method that is non-invasive and painless and used to dissolve fat cells in a specific area.
Even with a healthy lifestyle and a balanced diet, our body can develop unsightly fat bulges in certain areas. Sport and dieting will not solve the problem and until recently a little liposuction or laser lipolysis were the only solutions.
Today Cryolipolysis is a non-invasive and pain-free alternative for eliminating these areas of fat deposits.
How does Cryolipolysis work?
By cooling a specific area of fat, Cryolipolysis produces apoptosis, which is the slow programmed death of fat cells (adipocytes). The fat cells will break down naturally without damaging the surrounding tissue.
In some cases, in very specific areas, Cryolipolysis can be used to avoid a little liposuction or laser lipolysis.
Depending on the thickness of the fatty tissue and the fat reduction sought, between 1 and 3 sessions are generally needed for maximum results.
What should I expect from my first session?
The technology is based on a fully documented physical phenomenon (the Peltier effect): a shell-shaped vacuum draws the fatty fold into the bottom of this shell and a mechanism similar to a heat pump will extract calories from this area and lower the temperature from 37°C to around - 7°C within minutes.
Patients can resume normal activity immediately after Cryolipolysis.
2 days after the session there is some inflammation which is more or less noticeable depending on the patient. Maximum inflammation occurs after two weeks as the fat cells start their gradual draining process.
In the following weeks macrophages (large white blood cells) gradually begin to develop and digest the fat cells to facilitate their natural, progressive elimination.
Maximum results are usually achieved after 45 days.
Which patients are good candidates for Cryolipolysis?
These are generally patients (men and women) with a near normal Body Mass Index (BMI) with very localized fat deposits (belly, saddlebags, love handles, back, hips, knees and arms).
They are also patients who have followed a successful diet and who still have specific stubborn fatty areas despite diet and exercise.
Under no circumstances can Cryolipolysis be used to replace dieting for diagnosed obesity.