THE PERMANENT SOLUTION FOR SOFTER, SMOOTHER SKIN
The principle of laser hair removal is simple: a very large amount of energy is delivered on a single wavelength and this energy is carried by the light and concentrated onto the hair's pigment. It selectively heats the hair follicle and destroys it. The darker the hair, the more it will heat up and the more effective the laser will be. Conversely, the laser is ineffective on white hairs and has little effect on blond or ginger hairs.
Three hair removal lasers are currently available: the Long Pulsed 755 nm Alexandrite Laser, the 'gold standard' for hair removal, the Long Pulsed 1064 nm YAG Laser, more suitable for dark skin types, and the 800 nm Diode Laser. We have all three lasers in our practice to provide the very best results.
What should I expect from my first session?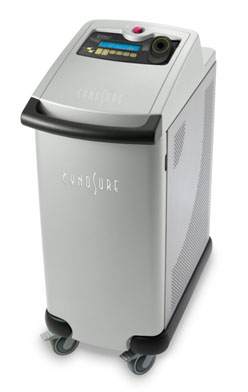 For your first hair removal session your skin should not be tanned. Avoid exposing the areas to be treated 2 months prior to treatment.
The areas to be treated should be shaved the day before or the day of treatment. These areas should not have been waxed or tweezed as the laser will not find its target and will be ineffective.
We will choose the most appropriate laser for your type of hair and skin colour. Sometimes two different lasers are used in one session.
A session can last between fifteen minutes and one hour depending on the size of the area to be treated.
There is no such thing as effective pain-free hair removal, but the pain is reduced by an inbuilt cooling system (sapphire cooling tip or cooling air) and the use of an anaesthetic cream.
And after treatment? How long will the results last?
The results are generally excellent with a very high satisfaction rate. The ideal scenario is bikini/leg hair removal for a woman with light skin and dark hairs with no hormonal disorders. In this case the results are perfect and quite impressive. The results will be lessened if the hairs are fairer, fine, on darker skin or if the patient has a hormonal disorder. This technique is completely ineffective on white hairs.
The results are visible after the first treatment and 10-20% of the hairs are removed during each session. On average 5 to 7 sessions are necessary for complete hair removal, spaced one month to six weeks apart. Laser hair removal is often permanent and at the very least usually lasts over 10 years. After this time, there is no need to repeat the full series of sessions. In most cases, just one follow-up session is enough. The number of sessions varies depending on your hair type and the area to be treated.
Side effects generally include redness and sometimes a little swelling around the follicles lasting 24 hours.
Sometimes small scabs (superficial burns) appear that will heal without scarring but they can generate depigmentation on tanned skin or hyperpigmentation on darker skin. These pigmentation disorders are usually temporary.
It is advisable to avoid the sun for one week after laser treatment. However, in rare cases of scabbing or hyperpigmentation it is important to avoid the sun until the skin returns to normal.
What about 'flash lamps'? These lamps are often less effective than lasers and are less safe, with a greater risk of burns. Beauty salon lamps are regulated to limit the risk of burns, therefore a high number of sessions are necessary and the results are often only temporary.
What contraindications are there?
Avoid tanning and self-tanning lotions.
With darker skins a special laser (1064 nm YAG or 800 nm Diode) can be used. Results are good but do not last as long. Often more sessions are required.
The presence of face and neck hairs in women depends on hormones. Hair removal treatment will always require maintenance as new hairs appear, stimulated by hormones. It may be necessary to see an endocrinologist.
Removing fuzz on the cheeks when you are young or have dark skin can actually stimulate hair growth, which is then very difficult to treat.
Male hair removal from the back or chest gives mixed results as the hair follicles can be very deep. This type of hair removal often requires follow-up sessions.
Laser eyebrow hair removal is dangerous due to the risk of damage to the retina.
How much does treatment cost?
The price of a session is based on the surface to be treated. To give an example, bikini area plus underarms costs €180 incl. VAT and for the legs €240 incl. VAT. You will receive a personalised quote before the first session.