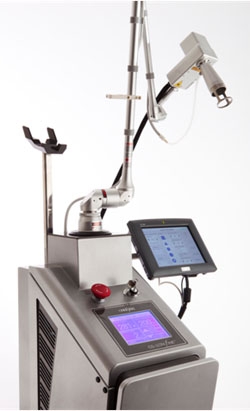 BREATHE NEW LIFE INTO YOUR SKIN
BREATHE NEW LIFE INTO YOUR SKIN
Photorejuvenation is performed using a fractional CO2 laser. It is used for the face, neck, cleavage and back of the hands. This technique significantly reduces the premature signs of ageing that are mainly due to heavy sun exposure, smoking or stress. The laser will even your complexion and smooth and regenerate your skin. Where photorejuvenation counters the signs of ageing on the surface layer, fractional resurfacing and remodelling are used to improve the skin's elasticity and tonicity while fading fine lines.
The ablative fractional CO2 laser removes microscopic areas of skin, leaving healthy surrounding areas of untreated skin for rapid healing.
The CO2 laser beam interacts with the water in your skin and the microscopic areas treated are sprayed with this water which remodels and creates new collagen.
What should I expect from my first session?
A prior consultation is necessary to determine the depth of your treatment and the number of sessions necessary (one to three). We will also explain the side effects and any possible downtime. You will be prescribed an anaesthetic cream, ointment, healing cream and treatment to prevent the herpes virus.
You must arrive 1 ½ hours before the laser session for my assistant to apply an anaesthetic cream. Pulsed cold air will be used with the laser over the treatment area and the session lasts around 30 minutes.
The treatment is really a laser peel, leaving a few slight scabs for a few days or thicker scabs after deeper treatment. There is no dressing after the procedure but you will have to apply the healing cream prescribed. Your skin may remain pink for a few weeks after deep treatment, in which case sun protection is required.
With the anaesthetic cream and pulsed cool air the treatment is pain-free. After your photorejuvenation session, you may feel sunburnt for a few days after treatment.
How long will the results last?
The results are visible after the first session but it is sometimes advisable to have 2-3 sessions 1 to 3 months apart for best results.
How much does treatment cost?